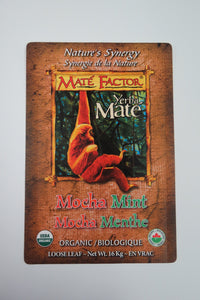 Gentle and soothing making it a good after dinner tea..
Stimulates conversation and may help lower anxiety.
Premium, organic loose leaf tea.
Net Weight: 16 kg

Organic Ingredients: roasted carob pods, roasted yerba maté, peppermint leaves
 Brewing Instructions: Allow 1 tablespoon of loose maté for each cup of tea. Steep in hot (not boiling) water & strain after 4-5 minutes. French presses, espresso machines, and tea balls can also be used to brew loose maté.